Rosemary Lane junction with The Tyning
The junction shows the junction of Rosemary lane with The Tyning. It is once again a very difficult junction to negotiate, especially since the lanes are bounded by stone walls. Although locals could use Rosemary lane as a short route to the A36 very few, if any do, as if one encounters another vehicle both drivers need to be very skilful to overcome the ensuing impasse.
It could be said that it is only down to the good nature of the owner of Abbotsleigh Coach House who has an open driveway into which drivers have backed, or drive their vehicles into, that those drivers have extricated themselves from a particularly difficult head to head. Rosemary Lane has a gradient of about 1:4 and a minimum width of less than 3m.

Quite a long way down Rosemary Lane, which is as noted above is steep along its route through Sharpstone and very narrow, a nightmare to reverse down! there is a junction with a private driveway to Dunkirk lodge. There is a lump in the lane - a sewer cover? On which the unwary motorist can get stuck! hardly the place to reverse into or even execute a three-point turn.
The view to the right is looking up Rosemary Lane, the lane is less than 3M wide in places and that is between stone walls! Can one imagine how difficult it is to reverse down the lane if you meet a vehicle coming the other way.

A white line has been added to the photograph parallel to the mason's courses -which are of course horizontal. The line helps to show how steep the lane is.

On the right hand side of Rosemary lane there is a drainage channel that the motorist can get stuck in and will of course freeze over in cold weather, creating additional problems.
The photograph shows the junction of the Tyning with Rosemary Lane. Note the open doorway to Abbotsleigh Cottage, an attractive escape route if one meets another vehicle.

Rosemary Lane is the shortest most direct route to the A36. I do not believe that the residents of Freshford Mill will refrain from taking this route, either when going to work or returning from work. This is most unfair on the residents of Rosemary lane and other residents in the hamlet of Sharpstone.

It is interesting to note that the Microsoft Autoroute program will suggest using Rosemary lane as a route to the A36. As the route is the shortest.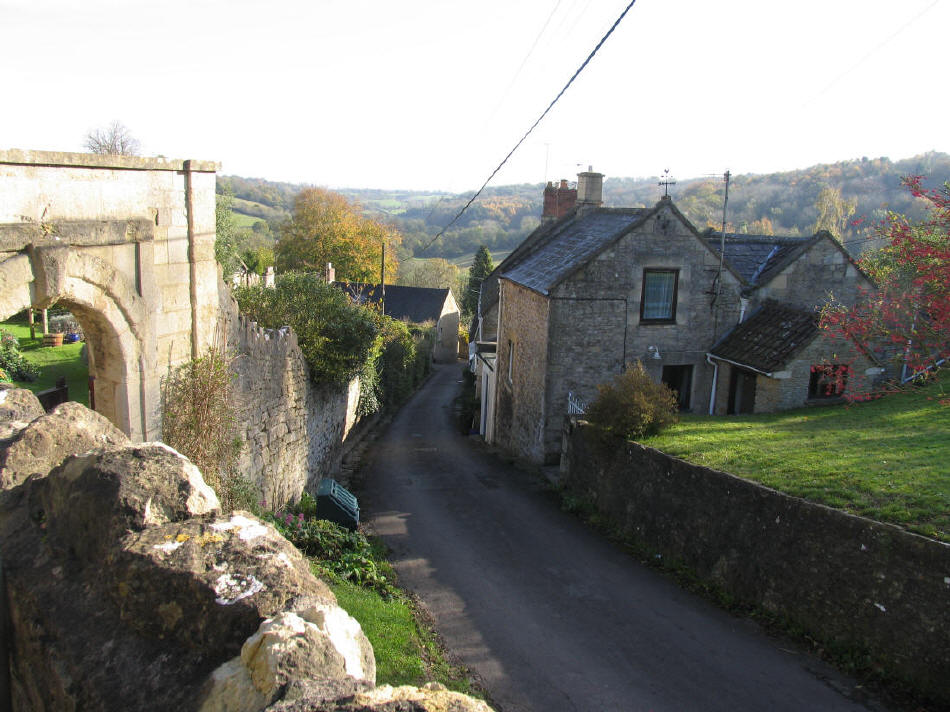 Below, the view looking down Rosemary lane, taken in the winter, and into the Frome valley. Just to the left and behind the camera viewpoint is a footpath that provides an even more spectacular view around the valley to where the river Frome joins the river Avon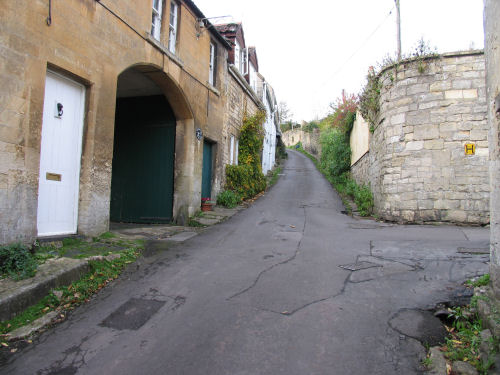 This photo is taken looking up Rosemary Lane from the junction with The Tyning. This lane is not only the steepest road in the area but also the narrowest.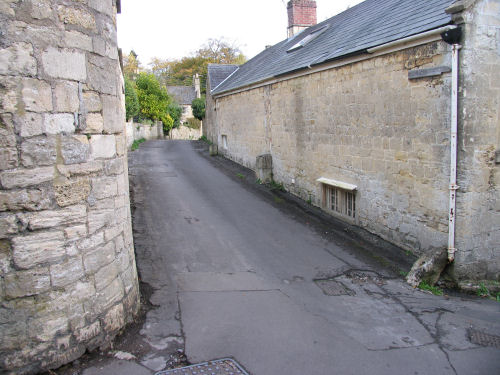 This photo is taken looking from the junction of Rosemary lane with the Tyning looking down the Tyning. Note no pavements